Giftogram is the ultimate gift card, redeemable for an eGift Card at over 100 retailers: See How It Works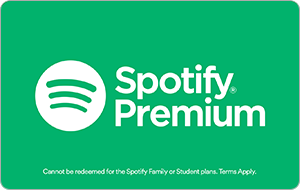 Featured eGift Card
Spotify
---
About Spotify
With Spotify, it's easy to find the right music for every moment – on your phone, your computer, your tablet and more.
There are millions of tracks on Spotify. So, whether you're working out, partying or relaxing, the right music is always at your fingertips. Choose what you want to listen to, or let Spotify surprise you.
You can also browse through the music collections of friends, artists and celebrities, or create a radio station and just sit back.

What's on Spotify?

Music
There are millions of songs on Spotify. Play your favorites, discover new tracks, and build the perfect collection.

Playlists
You'll find readymade playlists to match your mood, put together by music fans and experts.

New Releases
Hear this week's latest singles and albums, and check out what's hot in the Top 50.
Spotify is just one of the many eGift Cards users may choose
Reward, motivate and delight with the gift of choice
Giftogram takes out the guesswork and helps you create goodwill with one gift card, good for an eGift Card of their choice at hundreds of retailers.
For Customers
Recognize birthdays or special anniversaries, customer service or apology gifts, rewarding survey participation or simply building goodwill.
For Employees
Holiday gifts, birthdays, life events, milestones, anniversaries, retirement, wellness programs, on-the-spot rewards or just to say "thanks."
Give them real choice
Traditional reward & recognition programs will have you believe that choosing merchandise out of a catalog is real choice. Nothing can match the real, unlimited choice of letting them choose their own eGift Card.
Iyanla, 28
Regional Manager
Chase, 34
Graphic Designer
Gabrielle, 22
Customer Service Agent
Josephine, 64
Retired Consumer